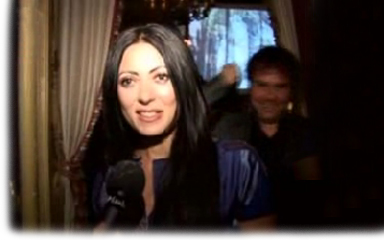 CATHERINE MALANDRINO
BIOGRAPHY
Fashion Designer, New York
Collections in Neiman Marcus, Saks, Bergdorf Goodman, Harrod's, Seibu, Matsuya
Featured in Vogue, Elle, InStyle, Cosmopolitan, Marie Claire, Bazaar, WWD, Jalouse, L'Expressmag
Clients Include Madonna, Halle Berry, Julia Roberts, Angelina Jolie
Fusing the Romance of Paris, the "City of Lights" and the 24/7 attitude of Manhattan, French born fashion designer, Catherine Malandrino has been elevated to the international fashion elite.
Her global clientele includes film stars, celebrities, as well as socialites and movers and shakers. Undoubtedly she has changed the fashion landscape for the discerning young and hip.
Blurring the boundaries between a woman's soft feminine side and her cutting edge intellect, she has blazed a formidable path. She began her career at Dorothee Bis and then worked in the houses of Emanuel Ungaro, Louis Feraud, and at Et Vous. In 1998 she came to America where she met her husband and partner, Bernard Aidan. They relaunched the Diane von Furstenberg collection. Soon after Malandrino started her own labels, the Catherine Malandrino Collection and the Catherine Malandrino Limited Edition. High-profile celebrities Angelina Jolie, Sandra Bullock, Demi Moore, and Heidi Klum have all been featured on magazine covers wearing her designs. This fashion forward designer also has a large following of couture fashionistas such as Madonna, Sarah Jessica Parker, Cameron Diaz, Halle Berry, Winona Ryder, Julia Roberts, Mary J Blige, and Nicole Kidman. Malandrino has an understanding and intuition that defies seasons. As the woman who has been described in the French press as the most photographed French woman in America after the Statue of Liberty puts it best, "I want to bring softness and refinement to the urban feminine wardrobe and to help the woman show her individuality through her unique clothes."