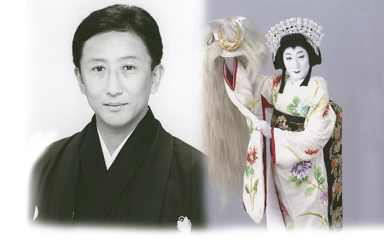 Photo Courtesy Nakamura Tokizo V
NAKAMURA TOKIZO V
BIOGRAPHY
Fifth Generation Master Kabuki Actor Descended From The Legendary Nakamura Family
One of the most decorated Kabuki Actors of the 21st century
National Theater Award (Distinguished Prize), National Theater Award (Best Actor Prize)
Shochiku CEO Award, Kabuki-za Award, Matuso-Geino Award (Best Actor Prize), Shochiku Presidential Award, Mayama Seika Award
Descended from one of the most prominent and distinguished Kabuki families, Tokizo V proudly bears his surname, Nakamura. Known as the aristocracy of Kabuki actors, the Nakamura line has produced over 17 generations of some of the greatest performers in the history of this closely guarded traditional art form.
Tokizo V's hereditary family connections are sterling. He was born on April 26, 1955, the first son of Nakamura Tokizo IV. As a very young child, he began to learn secrets of the classical Kabuki art from his father, who died when the young budding actor was only 6 years old. In a very poignant interview, Tokizo V recalled his grand ancestry and his passion for Kabuki "running through his veins." He was grateful to the other prestigious Nakamura family members who continued his training including Kanzaburo XIVII, and Utaemon VI.
At just 5 years of age, he made his debut at the Kabuki-Za in April 1960 when he played a child role under the stage name, Nakamura Baishi. In June 1981, he was promoted to "Nadai" which is a title for master actor thereby becoming Tokizo V. At his name-taking ceremony, he played "Omiwa" in Imoseyama-onnateikin at the Kabuki-Za.
He has distinguished himself by mastering some of the most difficult and demanding roles in the Kabuki repertoire. As a gifted actor who can play a broad range of roles, his voice is one of his greatest assets along with his striking, refined features.
One of the most important Kabuki actors of the 21st century, Tokizo V has played archetypical women ranging from a beautiful young lady like "Akahime" to a noble woman in a warrior family like "Onoe" to a strong heroine like "Yaegiri" or even the old lady in "Genjidana." He is one of a very few elite actors who has the command and experience to play these most demanding of women's roles in Kabuki. In addition his extraordinary talents allow him to transform himself in the role of handsome men like "Kichisaburo" and "Yasuke."
Tokizo V has received some of the highest honors bestowed on a Kabuki actor for his performances of such rare depth, range, and nuance. The impressive list of his awards follows including a two-time Best Actor Prize:
| | |
| --- | --- |
| 1972 | National Theater Award (Distinguished Prize) |
| 1986 | National Theater Award (Best Actor Prize) |
| 1990 | Shochiku CEO Award |
| 1992 | Kabukiza Award |
| 1994 | Matuso-Geino Award (Best Actor Prize) |
| 1994 | Shochiku Presidential Award |
| 1996 | Mayama Seika Award |