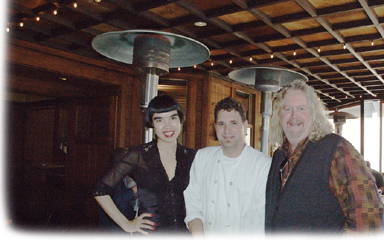 JIM CLENDENEN
BIOGRAPHY
Master Vintner
Au Bon Climat Winery
Winemaker of the World for 2004, Wein Gourmet
50 Most Influential Winemakers, Wine&Spirits Magazine
Oz Clark's 50 World-Wide Creators of Modern Classic Wines
Winemaker of the Year for 2001, Food & Wine Magazine
Robert Parker's Best Wineries of the World
Jim Clendenen graduated from the University of California, Santa Barbara, with High Honors in Pre-Law in 1976. It was during his "junior year abroad" in 1974, while turning 21 in France, that he discovered life beyond tacos. After graduation, a one-month stay in both Burgundy and Champagne convinced him to attempt a career in wine rather than continue on to law school.
Beginning with the 1978 harvest, Jim Clendenen was assistant winemaker at Zaca Mesa Winery for three vintages, a valued training experience. In 1981 his vision broadened with three harvests in one year as Jim worked crush and directed the harvest at wineries in Australia and France. Three harvests in one year confirmed his masochistic tendencies.
In 1982, Clendenen decided, along with now ex-partner Adam Tolmach, to start his own winery in leased quarters. Au Bon Climat (which means "a well exposed vineyard") has grown over its history to over 30,000 cases through careful re-investment from its own production.
The winery has cultivated an international reputation for its Pinot Noir, Chardonnay, Pinot Blanc, and Pinot Gris. In 1989 and again in 1990, Au Bon Climat was on Robert Parker's short list of Best Wineries in the World. Jim Clendenen was selected by Oz Clark in 1991 as one of fifty worldwide creators of Modern Classic Wines. That same year, Dan Berger of the Los Angeles Times selected Clendenen as #8 in his Top Twenty California Winemakers. Berger then named Clendenen as the "Los Angeles Times Winemaker of the Year" in 1992. Most recently, Food & Wine Magazine named Jim "Winemaker of the Year" in 2001 and in 2004, Wein Gourmet, Germany's leading wine magazine, named Clendenen "Winemaker of the World.