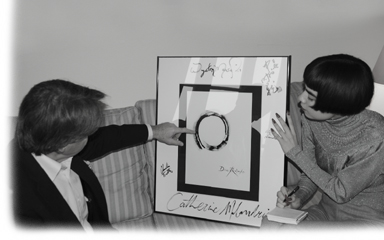 STEVEN SPURRIER QUOTE ON ENSO 2007
Wine Connoisseur of International Renown
Organiser, Judgement of Paris

"Drue's Enso embodies harmony, which is the prime quality of wine. Her global brush stroke shares the qualities of the great wines of the world. Those wines are the ones that donft impose themselves on your palette but allow you to think around and about them. Like Drue's Enso, they don't impose themselves with weight, power, or concentration--they impose themselves with their presence, subtlety and being.
What's brilliant about Drue's expression is that it is an exquisite representation of the cycle of wine --- all wine always goes through that eternal cycle. The texture in the stroke, like aging, is not smooth. That circle is the history of time itself, whether it is the creation of food from the raw materials of Charlie Trotter, or golden notes of Wynton Marsalis...
Drue's Enso is also perfectly harmonious with the Pinot Noir, a spherical wine --- For me, it is the birth and life of wine, down at the bottom you have where everything starts, the vine the ground... "
Steven Spurrier